Overview
Maintain a record of your preventative maintenance items for your tractors and trailers and set up notifications to remind you when a maintenance item should be performed. The process is similar for both tractors and trailers. We will use a tractor in the example below. Configuring a trailer will follow the same steps.
Completing the maintenance items for each asset is a two-step process: 1) add preventative maintenance records and 2) configure maintenance alerts.
Adding Preventative Maintenance Records
Go to Assets > Tractors > select the tractor > click the Preventative Maintenance tab (see Image 1 below)
Edit the details, such as the expiration date and odometer readings, of each item by clicking the checkbox to the left of the name, then the pencil icon (see Image 2 below)
To add a new maintenance item outside of the preset list, click Add Line Item and fill out the form within the popup window (see Image 3 below).
To remove a maintenance item, select it by clicking the checkbox to the left of the name, then click the garbage can (see Image 4 below).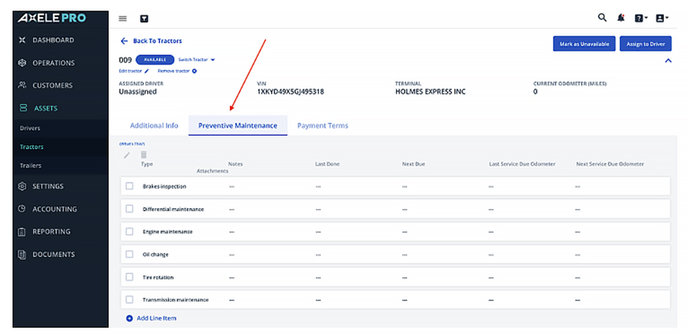 Image 1

Image 2

Image 3

Image 4
Expiration Color Codes
There are different color codes used to differentiate between an expired maintenance item, one that is expiring soon, and one that will expire later. These color codes are shown in the table below and are shown to the left of the associated Record Type in Axele.
| | |
| --- | --- |
| Expiration Status | Example of color codes |
| Expired Maintenance Item | Red |
| Expiring soon | Orange |
Expiration Color Codes
Configuring Preventative Maintenance Alerts
Once your maintenance items are added to each asset, configure alerts to notify you of any item by expiration date or odometer reading and choose to dispatch the asset if the item expires. To set these preferences, follow the steps below.
Go to Settings > Preferences > click the Tractors tab (see Image 5 below)

Update either the Alert Based on Time, to be notified of an expiration date, or the Alert Based on Miles, to be notified of an upcoming odometer reading (see Image 6 below)
Review the Dispatch if Alert Expires field on each maintenance item (see Image 7 below) (If Yes, you will be able to dispatch the asset if the maintenance item is overdue. If No, you will not be able to dispatch the asset if the maintenance item is overdue.)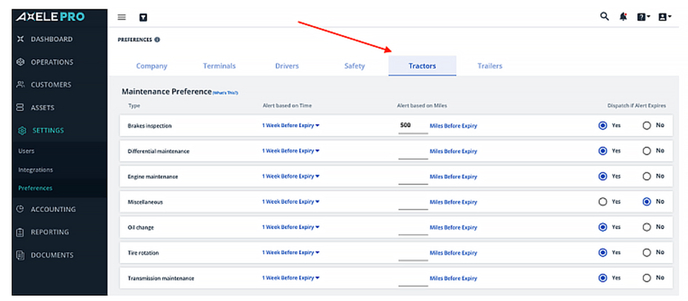 Image 5

Image 6
Image 7