Once a load is completed, Axele creates an invoice automatically that can be emailed or shared with your customer from with Axele.
To access the invoice of a load, click into a load and then the Financials tab.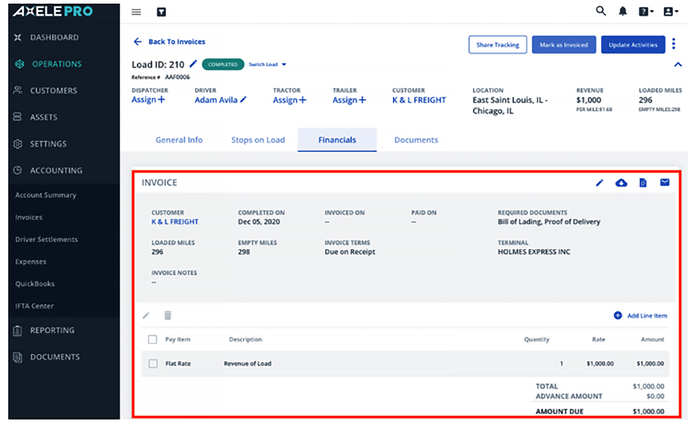 Alternatively, go to the Accounting > Invoices section and all invoices would appear there as well.
Add Invoice Line Items from Load Financials
Once a load is marked as complete, an invoice is created and appears on the Invoice page (Accounting > Invoices) as well as within the Financials tab of that particular load.
Invoice # and Load ID are the same in Axele.
To add or modify a load invoice item, go to Operations > Load > select the Load > click the Financials tab. Alternatively, you can browse to the load from the Invoice section (Accounting > Invoices > click on the Invoice #).
You can edit the already added invoice line item(s) by selecting the line item and clicking the Edit (pencil) icon. You can also choose to delete the preexisting invoice line item(s) by clicking the Delete (garbage can) icon.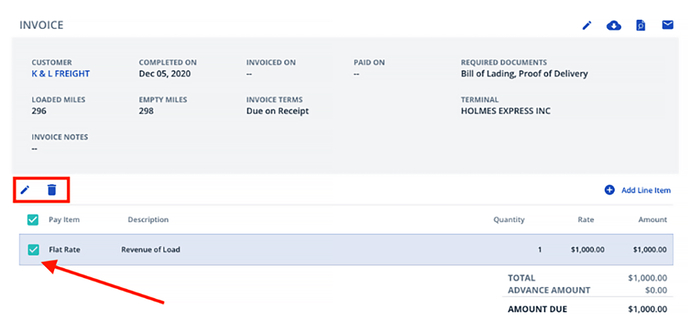 Add a New Line Item
To add a new invoice line item, click on Add Line Item located on the right side of the screen.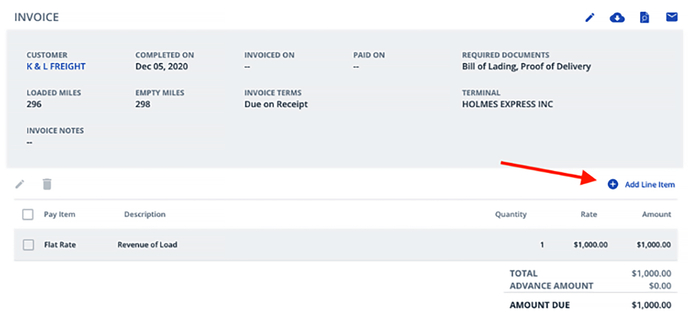 There are various invoice line items supported by Axele as shown below. In case you do not find an appropriate item, select Miscellaneous and provide an appropriate description.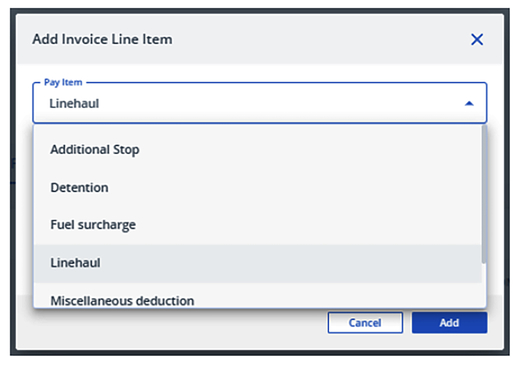 Advance Amount
You can also add any advance amount for the invoice by clicking the Edit (pencil) icon at the top right of the invoice section, then updating the Advance Amount field.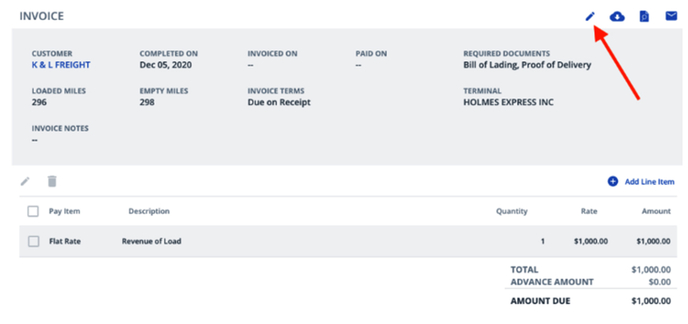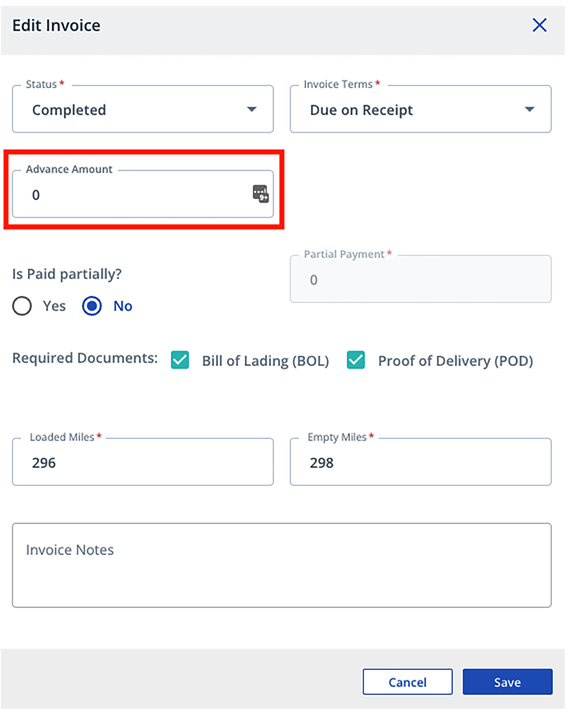 Truck Ordered Not Used (TONU) can be added to an invoice once the load is Cancelled. To cancel a load, click the blue Cancel button on the top right of a load that is In Progress (Dispatched or In Transit).
Partial Payment
If your customer has partially paid for this invoice, select the Edit (pencil) icon at the top right of the invoice section, then update the highlighted fields below.

Preview, Download, or Email Invoices
Once you are ready to send your invoice, you can preview, download, or email the invoice from the invoice section or from the load itself.
You can perform all the operations mentioned in this step in the load Financial section or in the Invoice section.

Alternatively, go to Accounting > Invoices > and select an invoice by clicking the checkbox to the left of the Invoice # to reveal some quick options:

Use the options highlighted above to perform the following actions:
Edit

Modify the invoice Status from Completed to Invoiced
Change Invoice Terms (Due on Receipt, Net 15, Net 30)
Record an advance amount
Record a partial payment
Specify required documents for the driver to upload (bill of lading/proof of delivery)
Update the loaded and empty miles
Modify the Invoice Notes, which are only visible to accountants, power dispatchers, and admins (hidden from drivers)
Download or Preview

You can download or preview your invoice using this option. A sample downloaded invoice is shown below: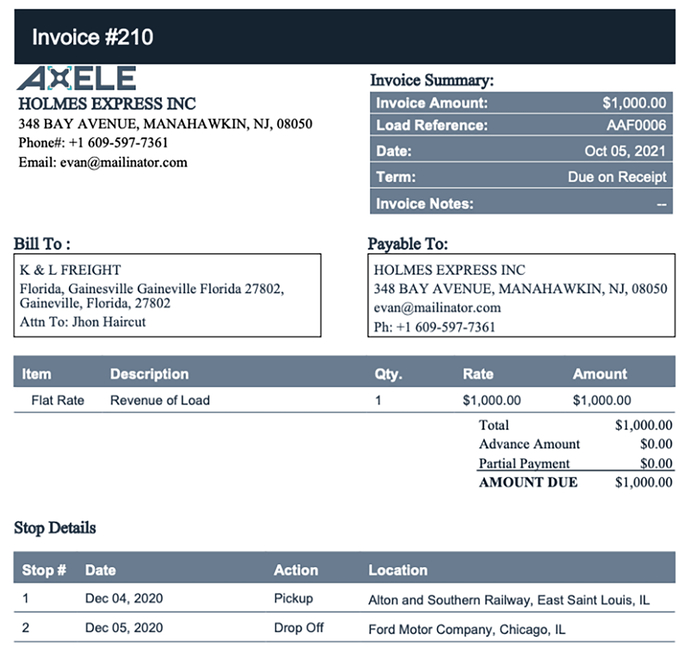 Email

If the email ID of the customer is available, you can directly email the invoice and all related load documents to the customer. Otherwise, enter the email ID and send the email as shown below.
The invoice and load document will be combined into a single PDF that will be attached to the email.
Upon sending the email, there is an option to mark the load as Invoiced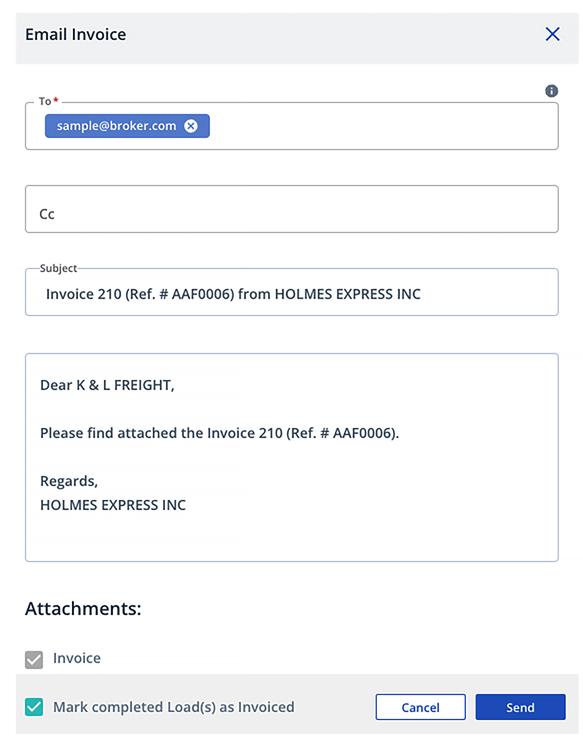 Change Status

The status of the invoice can be changed to a different status using this option: Completed, Invoiced, or Paid (helpful to revert to a previous status if necessary)