Axele allows you to import your data from an Excel file. Currently, we accept XLS and XLSX file types.
Here are the categories you can import:
Customers (shippers and brokers)
Locations (pickups and drop-offs)
Drivers
Tractors
Trailers
Loads
Expenses (fuel and tolls) – please make sure that the names of drivers, tractors, and trailers match the corresponding name in your data file
You can also import the data from the individual pages of Customers, Locations, Drivers, Tractors, Trailers, Loads, and Expenses using the Import Data button on the top right of each page.
You can import all your data directly from the Quick Setup Guide section, or within each of these pages within Axele. To quickly get to the guide, click the question mark at the top right of Axele and click Quick Setup Guide.

Once you are there, click the Import button.

Clicking Import will allow you to complete the process by following these steps:
Upload the file
Extract and review
Import results
Step 1: Upload File
Select the data type to upload
Download the sample file (every file type has a different sample file)
Make sure your data is added correctly to the sample file
Browse to the data file or just drag and drop it on the popup (you should be able to see the file name imported)
Click Next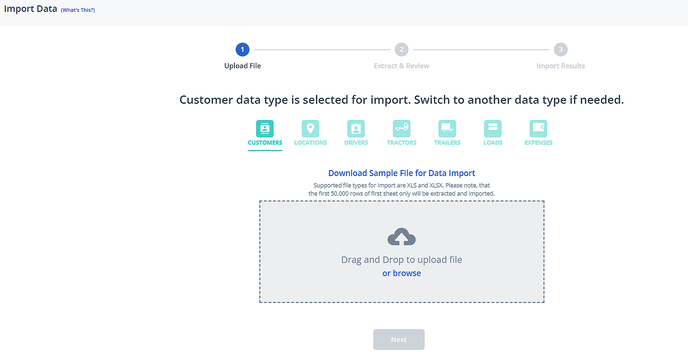 Step 2: Extract and Review
The data imported in Step 1 is validated and shown on this screen for you to review. You can see the total number of records extracted in this step, as well as validate your data matches correctly to the columns.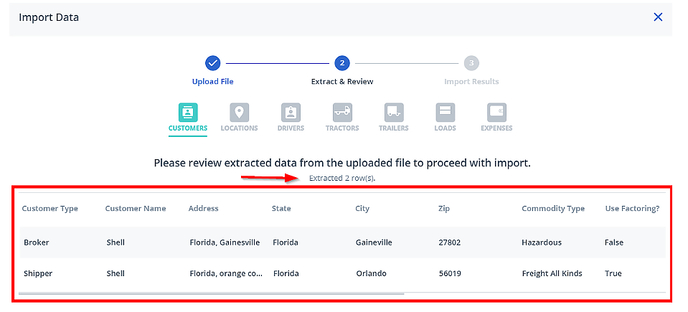 Step 3: Import Results
This is the final step to storing the data in Axele. Click on Done to complete the process!
If there are errors, there will be a link for you to download an error report.