Axele makes it easy to integrate your ELD and manage your list of drivers. You can even integrate multiple ELDs! This is great for dispatching services, or carriers that work with Owner Operators that have their own ELD.
Our ELD integration allows you to:
Integrate multiple ELD providers and efficiently connect each to Axele
Change the ELD provider for a driver without losing historical data
Create drivers directly from your ELD connection instead of creating drivers one by one
Link existing drivers within Axele to drivers within your ELD portal
Integrating your ELD with Axele is a two-step process.
Step 1: Integrate your ELD with Axele
To integrate your ELD, follow these steps within Axele:
Go to Settings > Integrations > and click the ELDs tab near the top left of the page
Click the blue Add ELD Integration button
Select your provider in the ELD Provider field
Enter all required fields
Click Add
Please note that some integration requirements are different than others. Be sure to search for your provider within this knowledge base to learn about any unique requirements of your ELD.
If you have any issues, or you would like to add your ELD provider to our list, please contact us at support@axele.com. We are more than happy to work with you and do not charge extra for building out new integrations.
Now, you can create new drivers in Axele from your ELD driver list or link an existing Axele driver in Axele to an ELD driver. Proceed to the next section to learn about this process.
Step 2: Create and Link Drivers
Once your ELD is integrated, you will see a card like the one below. Notice the "Manage" button towards the middle of the card. Clicking this will take you to a list of your ELD drivers.
If there is a "Submission invalid" message in red, please contact support and we can assist you.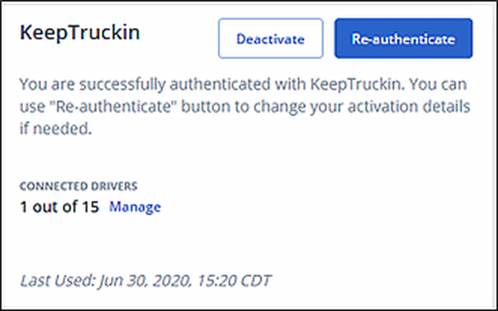 Welcome to the Manage ELD Drivers screen. On the left side, you will find data we pulled from your ELD:
ELD Driver Name
ELD Driver Email (if available)
ELD ID
On the right side of the screen, you will see columns associated with Axele data:
Axele Driver Name
Axele Driver Email
Axele Driver ID
The two main actions performed on this screen are creating new drivers and linking existing drivers.
There are two quick filters along the top to help you see your preferred list. Clicking the "Non-linked" filter will show the list of ELD drivers that can be created or linked.

Quick filters and Update ELD Data.
Clicking the Update ELD Data button at the top right will pull in the most current driver list from your ELD. This is helpful when you add a new driver into your ELD account and do not see the driver within Axele.
Create a New Driver

To create a new driver from the ELD list:
Click the box to the left of the driver's name, or select multiple names
Click the Create Driver(s) button towards the top right of the screen
In the popup window, click Create
The new driver details will appear within this table, and the driver(s) will show up in the Assets > Drivers section.
After you create a new driver, go to their details page (Assets > Drivers) to invite them to Axele, add payment terms, and more.

Payment terms are extremely important for Axele to calculate driver settlements automatically after a load is completed. Learn more about payment terms here: Driver Settlement – Axele Help Center.

Link an Existing Driver
If a driver already exists in Axele, click the Link Driver button to the right of the driver's name you want to link. This brings up a popup window allowing you to choose a driver from your Axele driver list. Select the driver, then click Link.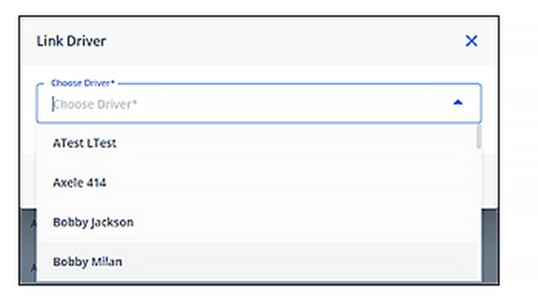 To change the driver's ELD, first un-link the current ELD and then link to the new ELD.