Overview
Axele makes it easy to add supporting load documents through the web and mobile app. Each load will organize relevant documents for you, and there is a central repository to keep everything organized and accessible for when you need to retrieve something.
Each uploaded document is automatically added to the central repository. To access the repository, click Documents within the left menu.
Uploading New Documents: Web App
Within a load, you'll see four tabs: General Info, Stops on Load, Financials, and Documents. To access the supporting documents or add new ones, click the Documents tab.
Upload New Document
To add a new document, click the blue Upload New Document button within the Documents section.

Document Type
Use the dropdown menu to categorize the document you're uploading. If you do not see the one you're looking for, or would like us to add additional types, please submit a support ticket using the blue question mark button at the bottom right of the screen.
Entity
Use this field to assign your document to one or more of the entities below. Once it's assigned, your document will be associated with that entity. Please note that you can assign a document to more than one entity.
Load
Location
Driver
Customer
Tractor
Trailer
Access Level
If a document is marked Public, it would be accessible to all users. The default selection is Private and would only be seen by the person who uploaded that document.
Notes
Add any relevant notes that are associated with the document you are uploading so you can refer to them later.
When you're ready, click Add and your document will be attached to the load.
Document Actions
Once your document is uploaded, select it by checking the box to the left to reveal a menu with the following actions:
Edit
Download
Preview
Email
Delete

Uploading New Documents: Mobile App
We make it easy for the driver to upload documents to a load directly from his or her mobile app.
From within a load, scroll to the bottom until you see the Documents section. To upload a specific document, touch the blue plus button to the right to reveal the upload options.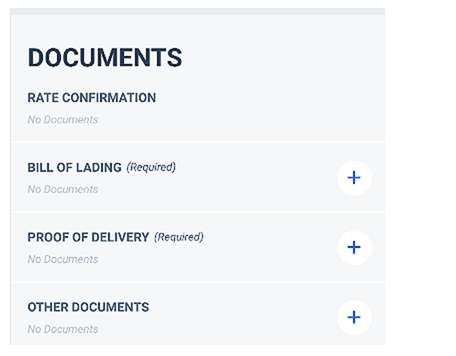 Use the Other Documents section for any documents outside of the main categories.
Here are the ways a driver can upload documents:
Take a photo
Scan the document using the camera
Upload from images
Upload from files
Once it's uploaded, the document would be attached to that load on both the mobile and web app.
Central Repository: Web App
Access this within the web app, by clicking Documents at the bottom of the left menu.
Each uploaded document is automatically stored in Axele's document repository on the web.
Easily search for documents by uploaded date range or document type using the search fields at the top.