Requirements: DAT Power or DAT TruckerEdge
Before you complete this integration, you will need a Connexion added to your DAT account. There are three ways to begin this process:
Call DAT at 800-547-5417, ask to speak to the success account manager and request to integrate your account with Axele (this is usually the fastest way)
Send a request to support@axele.com
Call us at 1-833-462-9353
We are always happy to contact DAT for you to expedite this process. Please let us know if we can assist.
When your DAT account is ready, you will receive a confirmation email. Follow these steps to integrate your load board with Axele:
Go to Settings > Integrations > Load Boards
Click Activate on the DAT card and enter your Connexion credentials (they might be different than your existing DAT credentials)
Click Save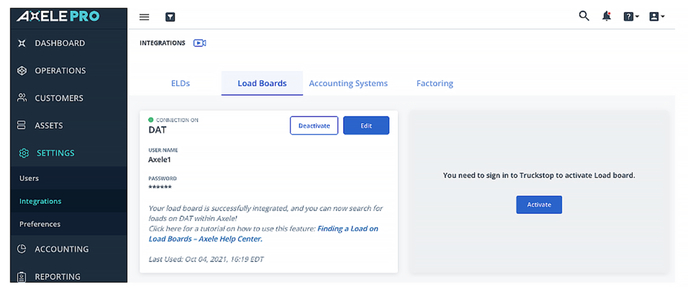 Now you'll be able to search for loads on DAT within Axele!
Here is a helpful tutorial on how to use this feature: Finding a Load on Load Boards – Axele Help Center.