Only the Owner Admin can manage the account and subscriptions for their organization from the My Account section. Access this by clicking the icon at the top right, then My Account: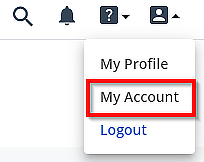 Learn more about the different subscriptions offered by Axele here: https://axele.com/features.
Axele Trial
When you register for Axele, you automatically receive one month of a free trial of the Axele Pro subscription. All the features mentioned under Axele Pro at https://axele.com/features is available to you for no cost during your trial. You can create multiple web users and drivers during the trial period for no additional cost.
After your trial period ends, if you want to continue with Axele Pro, you will have to add your credit card details to the payment section to officially subscribe to Axele Pro. Otherwise, you will be downgraded to Axele Free.
The Owner Admin will receive an email three (3) days prior to the trial period expiration date.
Axele Pro
Once you register for Axele, you can subscribe to Axele Pro by entering your credit card details.
After your trial period, you will be automatically subscribed to Axele Pro if you have your credit card on file.
The estimated amount for the subscription is given along with the current plan. See the example below.
The estimated amount does not include any add-on or overage charges that may be added between now and renewal.
You will be required to enter a valid credit card in the payment info section to auto deduct your subscription fee every month.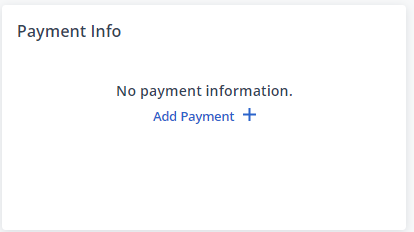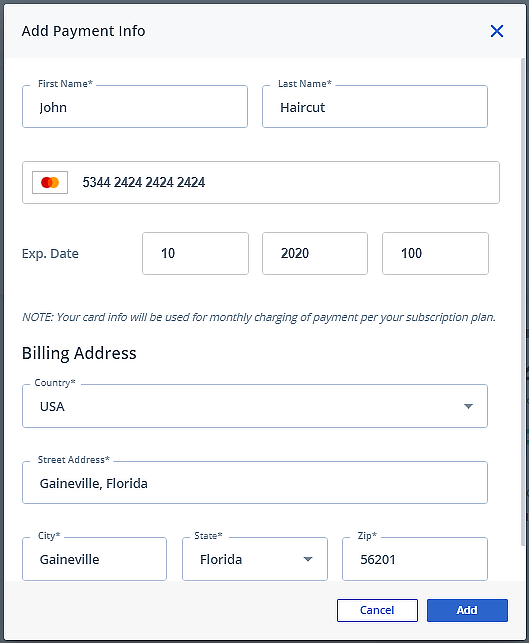 Axele has pricing structures to suit the individual business needs for all trucking solutions from owner/operator to large fleet. Please contact our sales team at sales@axele.com for a direct quote.
You can view all historical and current billing information by clicking on the Billing tab.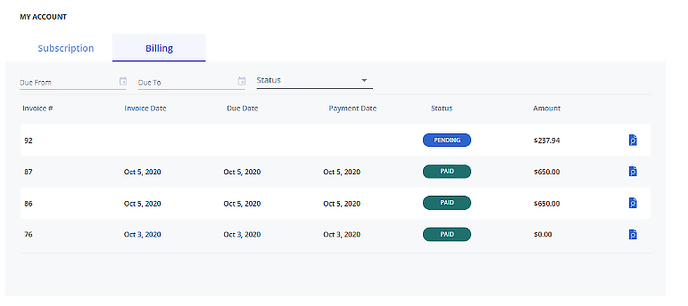 Axele Pro Cancellation
Your Axele Pro account is automatically cancelled if your bill has not been paid for more than 5 days. Axele will try to charge your credit card as entered in the Payment Info section. If your transaction fails for any reason (card expiration, payment declined from credit card provider, etc.), then Axele will inform you about the failed transaction through an email associated with your Owner Admin account. If the transaction failure persists, then your account subscription is cancelled after 5 days.
To cancel your account, please contact the Axele support team at support@axele.com to either downgrade to Axele Free or rectify any transaction issues.
Axele Free
The Axele Free subscription is ideal for getting started with Axele. It comes with basic TMS features and can support up to 10 drivers and 2 web users (including the primary user).
Some of the advanced features like ELD and load board integrations, IFTA, and document management, are only available on Axele Pro.
You can downgrade to Axele Free anytime by contacting our support team at support@axele.com or by reaching out to your sales representative.
If you want to maximize your profitability by using the advance features and integrations of Axele, consider upgrading to Axele Pro by clicking on the Upgrade option today!